Pigeon Control Buckeye Az | Bird Control Buckeye Az
Pigeon Bird Control Guaranteed To Ruffle Some Feathers in Buckeye Az.
Native Arizona birds like cactus wrens, finches or cardinals are beautiful and amazing creatures that we should all enjoy seeing when we are out at a park or watching from our window in Buckeye Az.
Non-native birds on the other hand like pigeons, sparrows or starlings were introduced into the United States a long time ago and since that time have become a real problem in Arizona especially as you may now be learning if they are nesting or roosting on your home or business in large or even small groups - Not So Cute Now Are They?
Don't wait any longer in Buckeye Az., call Southwest Avian Solutions,LLC. Monday thru Saturday from 8:00 AM - 4:45 PM at 602-942-6550 or 480-969-2337 to schedule your "NO OBLIGATION SITE SURVEY".
The Problem with Pest Birds
Did you know that pest birds clog roof drains with their feces and nests, pigeons poop 47 - 51 times a day, the bird droppings will eat at the finish of your car, it will reduce the life of your roof by 20% or more, bird feces has even been found to contain over 60 different diseases and 40 different parasites that could harm or be passed to you, your loved ones, pets, clients or employees.
Do you have solar panels with pigeons nesting under the solar panels or pooping on the top of the panels then check out our page on >> solar panel pigeon control screening <<
We are a Bird Control Company, Not a Bug Control company
Southwest Avian Solutions, LLC formally know as Arizona Wings N' Stings is a family owned, Glendale Arizona based and Dept. of Ag. state licensed (OPM 5474) and insured Arizona bird and pigeon control Specialty Company.
Southwest Avian Solutions specializes in just one thing - developing and installing custom designed pest bird management solutions. We have flustered birds of all types like pigeons, sparrows, barn swallows, crows and more for many years with long lasting and discrete methods that will humanely rid your Buckeye Az. home and business of pigeons and other pest birds that are creating rooftop water leaks, health concerns for you and others, image problems because of bird or pigeon poop on your business signs or building and even slip or fall hazards to your employees, clients or even family and friends caused by all that bird or pigeon poop falling off the roof or other structure onto the walkway or ground below.

Our  "Certified Bird Control Installers" many with 5 - 10 years experience have been providing Humane, Discrete and Guaranteed Pigeon and Bird Proofing Solutions to homes, business's, industrial buildings, state and government buildings throughout Arizona and the southwest since 1997, with over 5,000 bird control projects completed so far.
We have a wide range of bird control or pigeon control solutions available in Buckeye Az. like installing bird wire, bird deterrent spike, bird control net or pigeon control net, bird exclusion screening, low voltage bird shock track systems, pigeon control live trapping solutions and others to help get rid of your bird control or pigeon control problems in Buckeye Arizona..
Our "Bird-Free Guarantee"
Southwest Avian Solutions,LLC Guarantees all Workmanship and Installations for 5 years or 3 years depending on the project and just about all of the Pigeon Control or Bird Deterrent products or materials that we use to bird proof your home or business can carry up to a 5 year warrantee.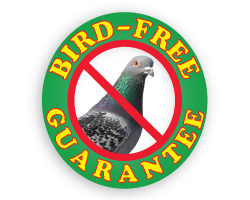 Our Bird-Free Guarantee; We Guarantee the locations or areas that Southwest Avian Solutions,LLC has installed products on/ in or areas that we close off against your pest birds re-entering that location. We can not guarantee that birds will not move to other unprotected locations now or in the future on your home, business or structure that Southwest Avian Solutions,LLC did not protect.
After 5,000 plus homes and businesses in Arizona and the southwest we really know what it takes to get rid you of your flying rats in Buckeye Az..
Call Us Now, Put an End to your Pest Bird Problems in Buckeye Az.

We can usually Meet or Beat most any other written estimate from other licensed competitors in Arizona
Due to our many years of experience Southwest Avian Solutions can offer very competitive prices for your Buckeye Arizona home, office or structure bird control problems without compromising integrity and / or quality, backed with our 5 year or 3 year Bird-Free Guarantee.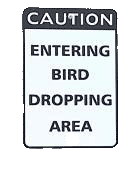 Don't wait any longer in Buckeye Az., call Southwest Avian Solutions,LLC. Monday thru Saturday from 8:30 AM - 4:45 PM at 602-942-6550 or 480-969-2337 to schedule your "NO OBLIGATION SITE SURVEY" in Buckeye Az., see how we can help solve your pigeon or pest bird problems with our many different discrete bird deterrents to bird proof your residential or commercial property and help you finally put an end to all the hassle, mess and health issues caused by your pest birds or pigeon control problems on your home or business.
Our Service Areas
All of our Bird Control Services are offered in:
Ahwatukee Az, Anthem Az, Apache Junction Az, Avondale Az, Buckeye Az, Carefree Az, Casa Grande Az, Cave Creek Az, Chandler Az, El Mirage Az, Eloy Az, Fountain Hills Az, Gilbert Az, Glendale Az, Gold Canyon Az, Goodyear Az, Higley Az, Litchfield Park Az, Maricopa Az, Mesa Az, Paradise Valley Az, Peoria Az, Phoenix Az, Queen Creek Az, San Tan Valley Az, Sun City Az, Sun City West Az, Sun Lakes Az, Surprise Az, Tempe Az, Tolleson Az, Waddell Az, Youngtown Az, .
Outside Maricopa County - No Residential Services - Only Commercial Bird Control Projects are offered In:
Bullhead City Az, Flagstaff Az, Florence Az, Globe Az, Kingman Az, Lake Havasu City Az, Las Vegas Nv, Laughlin Nv, Nogales Az, Payson Az, Prescott Az, Quartzsite Az, Yuma Az, Sedona Az, Tucson Az, Wickenburg Az, Utah, Nevada, New Mexico, Colorado, Arizona Az