Arizona Solar Panel Pigeon Control Screening Solutions
We Stop Pigeons From Nesting Under Your Solar Panels in Arizona
Are You Having Problems With Pigeons Nesting Under Your Solar Panels?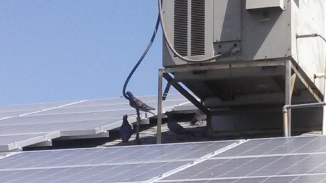 Pigeons have always used roofs to nest and roost on. Whether it was for day roosting, nesting under the roof overhangs or even using the gutter as a nesting site.
Since the arrival of the solar panel on roof tops in Phoenix Arizona, we have now literally put a huge roof over the pigeons heads as well as all their offsprings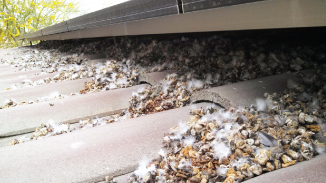 .
The Arizona solar panels give the pigeons protection from our scorching summer heat and shelter from all the other elements. Roof top solar panels have created the perfect home for them which is why many areas are requiring solar panel pigeon screening be done when installing the solar panels to prevent huge population buildups of pigeons..
We Stop Pigeons Going Under Your Solar Panels With Our Proven System
We have achieved A 100% Success rate screening around solar panels to keep the pigeons out!
Southwest Avian Solutions has developed a guaranteed long lasting solar panel pigeon control system using long lasting galvanized welded wire mesh to stop pigeons from getting under the solar panels that are held in place using metal attachment clipsrestraints to hold the pigeon control screening in place.
Using this system we have achieved a long lasting 100% "Bird-Free" success rate stopping pigeons from going under your solar panels. Using this proven system does not affect your warranty, as we do not drill into any part of the solar panel array.
Our pigeon control solar panel screening or proofing experts are happy to talk to you about installing pigeon control solar panel screening to your solar panels, for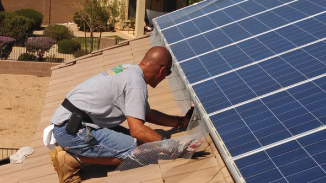 your peace of mind and long term protection.
Solar panel installing companies are recommending Southwest Avian Solutions to their customers as their preferred pigeon control solar panel screening specialists. That is because of our expertise in pigeon proofing and the development of our non damaging attachment system for all sorts of residential or commercial pigeon control or bird control problems.
Solar Panel Pigeon Screening Is Cover By Our 5 Year "Bird-Free Guarantee"
BEWARE Not All Solar Panel Pigeon Control Screening Is The Same
The Southwest Avian Solutions Solar Panel Proofing Process

Cleaning Under Solar Panels for pigeon nests and waste:
> Most all nests, dead pigeons and debris are removed as best we can from under the solar panels using removal tools or pressure washing before the solar panel screening is installed.
Solar panel pigeon control screening to stop pigeons going under the solar panel array: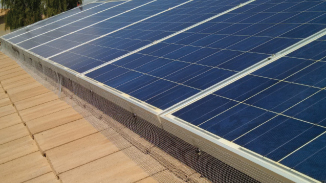 > The system Southwest Avian Solutions has developed uses long lasting galvanized metal clips that are installed to the lower lip of the panel. This process of attaching many clips per panel is carried out on every outer solar panel within the array.

> Galvanized welded wire mesh is then cut to size so as to close the space between roof tile top and the underside of the solar panel. If you have rounded tiles we will cut the galvanized screen to fit over the humps of the tiles.
> The UV restraints are then used to attach the mesh to the clips, creating a physical barrier to stop the pigeons going back under the solar panels.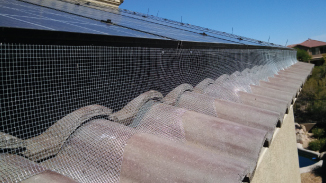 Southwest Avian Solutions specializes in just one thing - Developing and installing effective, long lasting pigeon control deterrents and bird control deterrent solutions for homes all over the valley as well as solar panels and all sorts of business and structures in Metro Phoenix and Arizona.
Due to our many years of experience Southwest Avian Solutions can offer very competitive prices for your solar panel pigeon control screening on your home and structures without compromising integrity and / or quality, backed with our 3 - 5 year Bird-Free Guarantee.
Free Pigeon Control Solar Panel Screening & Cleaning Estimates
Don't wait any longer, call Southwest Avian Solutions,LLC. Monday thru Saturday from 8:30 AM - 5:00 PM at 602-942-6550 or 480-969-2337 to schedule your "NO OBLIGATION SITE SURVEY" and a proposal on how we can help you put an end to all the pigeon or bird mess and hassle of having to deal with your pest bird problems.
After 17 plus years and working on 5,000 plus homes, businesses and structures in Arizona, we know what it takes to provide you with a Humane, Discrete and Effective solution to your solar panel pigeon control problems.
Our Service Areas
All Solar Panel Bird Control Services are offered in:
Ahwatukee Az, Anthem Az, Apache Junction Az, Avondale Az, Buckeye Az, Carefree Az, Casa Grande Az, Cave Creek Az, Chandler Az, El Mirage Az, Eloy Az, Fountain Hills Az, Gilbert Az, Glendale Az, Gold Canyon Az, Goodyear Az, Higley Az, Laveen AZ, Litchfield Park Az, Maricopa Az, Mesa Az, Paradise Valley Az, Peoria Az, Phoenix Az, Queen Creek Az, San Tan Valley Az, Scottsdale Az, Sun City Az, Sun City West Az, Sun Lakes Az, Surprise Az, Tempe Az, Tolleson Az, Waddell Az, Youngtown Az, .
Outside Maricopa County - No Residential Services - Only Commercial Bird Control Services are offered In:
Bullhead City Az, Flagstaff Az, Florence Az, Globe Az, Kingman Az, Lake Havasu City Az, Las Vegas Nv, Laughlin Nv, Nogales Az, Payson Az, Prescott Az, Quartzsite Az, Yuma Az, Sedona Az, Tucson Az, Wickenburg Az, Utah, Nevada, New Mexico, Colorado, Arizona, Az